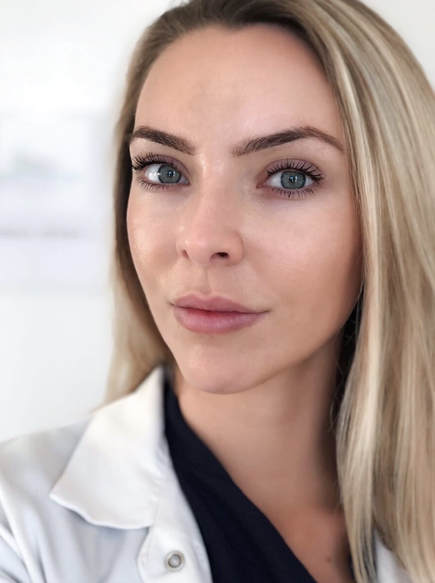 Nurse Practitioner (INP)
AMY ROBINSON
Treatments:
Holistic Therapies
Medical Non-Surgical Aesthetics
Prescription-only medicine (POM) 
Specialist areas:
Aesthetic Dermatology Concerns
Injectable treatments for winkle smoothing or improving volume loss / facial contours / textural improvement:
- Dermal Fillers (both basic and advanced treatments offered)
Skin rejuvenation treatments to treat acne, rosacea and other common skin complaints:
- Laser (dependent on clinic location)
- Dermaroller / Innopen 
- Chemical Peels
- Prescriptive skincare
- Sclerotherapy
- Short Wave Diathermy (SWD)
- Hydrafacial
"I recently had my first botox session with Amy. Amy was faultless in her delivery of information and made me feel relaxed and reassured. It was a very clean and relaxing setting and Amy was professional and friendly from start to finish. My results were just as I hoped for and I shall look forward to returning in 3 months time"

"So pleased with my results Amy knows exactly where to add to my lips and cheeks to create the look I want, always looks natural and not over the top. She definitely has a talent for working with individual face and lip shapes rather than just injecting and filling it up. "

MD

I have been seeing Amy for a number of years and am always absolutely delighted with the results. She is not only amazing at what she does but has a naturally warm and friendly personality, that is reassuring and ensures you have the best possible experience. She is most professional in every aspect and attention to detail is second to none. I would highly recommend her to anyone, safe in the knowledge that you will be as delighted as I am with any treatment you many be considering. She simply is the best!
About Amy
I am an Independent Nurse Prescriber and have worked within the aesthetics industry for 11 years. I have been fortunate enough to work with some amazing and high profile names within the industry; many of whom I continue to work with on a regular basis. I am an established, trusted and experienced medical Practitioner, operating in Essex and London.  
What makes Amy unique?
Working with other clinics and practitioners means that I can build on my relationship with each clinic, as well as offer each of my patients a bespoke care package in a safe environment and a convenient location. I am able to offer genuine referrals to colleagues for treatments ranging from beauty treatments, holistic therapies, to medical non-surgical aesthetics and surgery.
What products / brands do you use?
I have the luxury of working with a huge range of top end products (too many to name here!) and, during my career, have tried and tested many of them. This has enabled me to identify those which provide my patients with the best outcomes. 
I only use the highest grade products for all of my treatments, allowing patients complete peace of mind and ensuring natural and safe results.
What drives You?
My passion is all things dermatology, anti-ageing and rejuvenation / self-enhancement therapies. I pride myself on my attention to detail and a high standard of ethics when it comes to treating my patients. 
As someone who has personally suffered with common skin ailments through the years, I have a vested interest in researching all things 'skin'. 
I am passionate about creating a great experience for my patients, and enjoy making them look and feel great. I have a very holistic approach to care and incorporate this into my consultations. The research is all there... improve your inner health and you will reap the benefits outwardly. My aim is to educate and inform my patients, to guide them through an appropriate and effective therapy and to deliver a fantastic outcome.
​I offer complimentary consultations to provide my patients with information and peace of mind when choosing me as your practitioner.
Whatever your skin or ageing complaint may be, please feel free to get in touch through the Book Now button above.